Fire Protection Technology Degree
---
Associate in Science in Fire Protection Technology
Firefighting is a dynamic public safety profession that requires a wide and ever-changing range of knowledge and skills.
Areas of necessary knowledge include safety, fire behavior and suppression, rescue, emergency medical service delivery and operations, hazardous materials, building construction, detection and signaling systems and the incident command system.
This program focuses on preparing the student for their first career in the fire service. This program includes educational opportunities for those employed within the fire service, as well as those within volunteer fire agencies.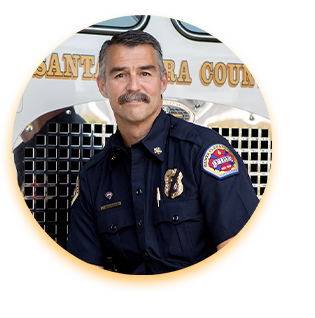 I distinctly remember my instructors supportively walking alongside me on my journey to attain an A.S. Degree in Fire Science. After graduation, I continued my education and received a Master's Degree in Executive Fire Service Leadership. My foundation of success came from my experience at Mission College.
Ken Kehmna
Retired Fire Chief in Santa Clara
Read

His

Story

Courses include those required for transfer to four-year colleges, those required to meet eligibility requirements for employment, and those required for incentive salary increases and promotions.
---
Program Learning Outcomes
Students will be able to engage in patient assessment considering patient pathophysiology and implement appropriate emergency medical care.
Students will be able to identify and analyze building components, hazardous materials classifications and automated suppression systems.
Students will be able to evaluate fire behavior and combustion and apply the appropriate fire suppression and rescue techniques.
---
Meet the Following Requirements
Completion of 60 degree applicable units with an overall GPA of 2.0.
Completion of a minimum of 18 semester units in the major with a grade of C (or P) or better.
Completion of the AS Graduation Requirements, CSU GE-B or IGETC.
Notes
Requirements here apply to the current catalog year and are subject to change. Visit DegreeWorks in My Mission Portalto view requirements based your catalog year.
Not all classes are offered each semester.
---
Required Core Courses
A higher level math course can be taken in lieu of MAT 000C
| Code | Class | Units |
| --- | --- | --- |
| CHM 030A | Fundamentals of Chemistry (3.0 Lecture/1.0 Lab) | 4.0 |
| FPT 051 | Fire Protection Organization (3.0 Lecture) | 3.0 |
| FPT 052 | Fire Behavior and Combustion (3.0 Lecture) | 3.0 |
| FPT 053 | Fire Protection Systems (3.0 Lecture) | 3.0 |
| FPT 054 | Building Construction for Fire Protection (3.0 Lecture) | 3.0 |
| FPT 055 | Fire Prevention Technology (3.0 Lecture) | 3.0 |
| FPT 056 | Hazardous Materials Technology (3.0 Lecture) | 3.0 |
| MAT 000C | Intermediate Algebra (5.0 Lecture) | 5.0 |
Plus 6.0 units from the following:
FPT 065, 065C and 065L must be taken in the same semester
| Code | Class | Units |
| --- | --- | --- |
| KIN 039A | Fire Agility - Introduction (2.0 Lab) | 2.0 |
| FPT 057 | Rescue Practices (2.0 Lecture/1.0 Lab) | 3.0 |
| FPT 060 | Wildland Fire Suppression (1.5 Lecture/1.5 Lab) | 3.0 |
| FPT 061 | Fundamentals of Fire Suppression (1.5 Lecture/1.5 Lab) | 3.0 |
| FPT 065 | Emergency Medical Technician Theory (6.0 Lecture) | 6.0 |
| FPT 065C | Emergency Medical Technician Clinical Experience (0.5 Lab) | 0.5 |
| FPT 065L | Emergency Medical Technician Laboratory (1.5 Lab) | 1.5 |
| FPT 180 | Emergency Medical Technician-I Refresher Course (2.0 Lecture) | 2.0 |
Required Units for the Major
Units
Required units for the major
32.0
plus completion of general education requirements
and electives as needed to reach 60 units.
Total required units
60.0
Skills Needed
Communication and teamwork
Practical skills in operating and using tools
Decision making
High physical fitness
Ability to act quickly, adapt and to remain calm
Self discipline
Integrity
Tolerance to variety of personalities
Following directions and regulations
Leadership
Select Jobs in the Field
Firefighter
EMT and Paramedic
Fire Chief or Captain
Safety Manager
Fire Sprinkler Designer
Fire Marshall
Health and Safety Manager
Fire Protection Engineer
Fire Inspector