Fire Fighter 1/EMT Academy Certificate
---
Firefighter Academy Certificate
This Certificate of Achievement is designed to prepare an individual for the entry-level position as a Firefighter/EMT. The certification is two-fold; once certified as an EMT, employment can be gained in the emergency medical field until the completion of the Firefighter 1 Academy.
When both certifications are met, they are prepared for the entry level position as a Firefighter/EMT the EMT training program is designed to prepare individuals to render pre-hospital basic life support at the scene of an emergency, during transport of the sick and injured, or during inter-facility transfer within an organized EMS system.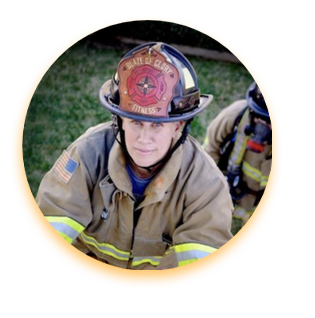 I got hired by the Santa Clara County Fire Department in 2002 and still hold my position as a proud Firefighter and Engineer. This also inspired me to develop Blaze of Glory Fitness to help prepare, train, guide, and motivate potential firefighters.
Shay Mountford '98
Santa Clara Firefighter/Engineer

This course meets all the theory requirements for certification as an Emergency Medical Technician-I as specified in the regulations approved by the State of California Emergency Medical Services Authority in July 2017.
Students must also successfully complete FPT 065L and FPT 065C concurrently with FPT 065 to be eligible for certification. The Firefighter 1 Academy provides the skills and knowledge needed for the entry level Professional or Volunteer Fire Fighter to perform his/her duties safely, effectively, and competently.
The curriculum is based on the 2013 edition of NFPA 1001 Standard for Fire Fighter Professional Qualifications, the 2012 edition of NFPA 1051 Standard for Wildland Fire Fighter Professional Qualifications, and the 2008 edition of NFPA 472 Standard for Competence of Responders to Hazardous Materials/Weapons of Mass Destruction Incidents.
This certification is required to become a Professional or Volunteer Firefighter/EMT, and includes instruction on basic firefighting skills, laws and regulations affecting the fire service. Starting in 2013, State of California Fire Training requires that both Volunteer and Professional Fire Fighters complete a Fire Fighter 1 Academy.
This has created an increase in demand. The course provides the student with knowledge and skills to safely perform, under minimal supervision, essential and advanced fire ground tasks, basic rescue, basic fire prevention and fire investigation task and to use, inspect, and maintain firefighting and rescue equipment.
This curriculum provides the minimum required training required by the State of California Fire Training in the field of fire technology as it relates to firefighters.
---
Program Learning Outcomes
Students will be prepared for entry-level employment as a professional and competent Fire Fighter and meet the requirements for Firefighter 1 Certification from California State Fire Training
Students will be prepared for entry-level employment as a professional and competent Emergency Medical Technician and meet the needs of the local health care community.
---
Meet the Following Requirements
Complete all required certificate courses with a C (or P) or better.
Complete at least 1/3 of the program courses at Mission College to establish residency.
NOTES:
Requirements here apply to the current catalog year and are subject to change. Visit DegreeWorks in My Mission Portalto view requirements based your catalog year.
Not all classes are offered each semester.
Required Courses
Required Units for the Major
| | Units |
| --- | --- |
| Required units for the major | 22.5 |
Skills Needed
Communication and Teamwork
Practical skills in operating and using tools
Decision making
High physical fitness
Ability to act quickly, adapt and to remain calm
Self discipline
Integrity
Tolerance to variety of personalities
Following directions and regulations
Leadership
Select Jobs in the Field
Firefighter
EMT and Paramedic
Fire Chief or Captain
Safety Manager
Fire Sprinkler Designer
Fire Marshall
Health and Safety Manager
Fire Protection Engineer
Fire Inspector